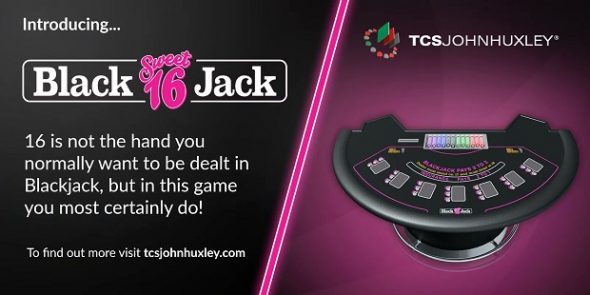 Land casino game developer TCSJohnHuxley has announced the release of a new land casino blackjack game called Sweet 16, which adds a lucrative side bet to the classic card game.
The game is paid to players who placed the side bet and get a 16 on their first two cards. The payouts will be as follows:
Mixed color 16- 6:1
Same color 16-12:1
Suitable 16-16:1
Sweet 16 (Ace of Hearts + 5 of Hearts) 160:1
Blackjack in the game pays 3:2. Dealers stand on 17 and hit on 16. The house edge of the game varies from 4.82 to 4.91%.
The game is dealt on a black table with pink accents on the felt.
Sweet 16 can be sold and integrated into land-based casinos around the world.
TCSJohnHuxley is based in Stoke-on-Trent, UK with offices in Las Vegas, Spain, South Africa, Australia, Macau and Singapore. They have made a name for themselves by offering land casino games like blackjack, roulette, craps and more. The group had a limited foray into the iGaming industry after teaming up with Evolution Gaming.
Previous article: BETER offers live blackjack for SoftSwiss