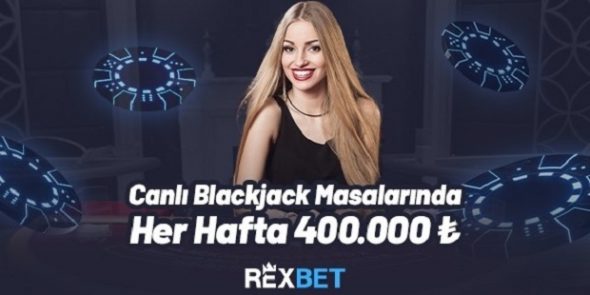 Turkey-focused betting site Rexbet is launching a special live dealer online blackjack promotion at the end of the year, offering a chance to win a big share of a 400,000 TL prize pool while playing.
Players who wager at least 50 TL during the promotion have a chance to take home a piece of the pool, with a minimum stake of 100 TL. Players must play at least five hands of live dealer blackjack with the evolution tables in the game. The promotion runs until New Year's Eve and pays back players who bet at least 50 TL.
The promotion was announced in an email to affiliates and said in part (translated into English): "Those who place a minimum bet of 50 TL on the Evolution Blackjack tables have a chance to win a share of the 400,000 TL cash prize pool get if you play a total of 5 blackjacks in the week. Also, the minimum price for each player is 100 TL!"
Those interested in claiming the bonus can do so now by visiting the Rexbet Casino website.
Next Article: Playtech and Bet365 Introduce New Live Dealer Blackjack Games
Previous article: iSoftBet introduces Blackjack 21+3